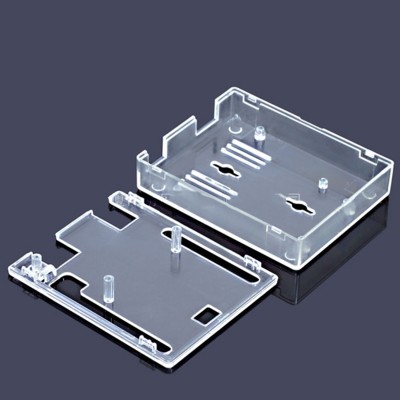 UNO R3 Plastik Koruma Kutusu
Resimler gösterim amaçlıdır.UNO R3 ihtiva etmez.
Arduino için mükemmel koruma sağlayacak plastik koruma kutusu

Vidasız yeni tasarım ürün.

2 Parça plastik malzemeden üretilmiştir.

Tırnaklı yapısı sebebiyle kolayca motajlanabilmektedir.

Usb port, power soketi, reset butonu ve diğer dişi pin header konnektörlere rahatça erişilebilir.

Reset tuşu kutu üzerinden kullanılabilecek şekilde tasarlanmıştır.

Ürünü bir yere sabitlemek için 2 adet montaj deliği bulunmaktadır.

Kart altında havalandırma için ızgara delikleri bulunmaktadır.
Özellikler:
Renk : Şeffaf

Ölçüler: 7.5 * 6 * 2 cm
Paket içeriği:
1 Adet UNO R3 Pleksi Kutu ( Demonte )

Features:
Protective case designed specifically for Arduino Uno R3.

The case is a two-piece injection-molded \enclosure that snaps together around for Arduino. Holds the board firmly in place.

It provides tough protection for Arduino UNO while providing access to all connectors.

Easy access to each header, USB port, power jack, the reset button, etc.

Includes reset key for use with the Uno's reset button.

Secondary screw-mounting points for securing for Arduino.

Specifications:
Color: Transparent

Material: ABS

Product Size: Approx. 7.5 * 6 * 2 cm / 3 * 2.4 * 0.8 inch +-5mm

Package Weight: About 28g
Note: Not Suitable for Keep open and close the case (Clip may break easily). It may be softer than normal ABS casing.
Arduino UNO R3 Plastik Pleksi Kutu